Anxiety rises in Catalonia as Spain's political crisis deepens
Comments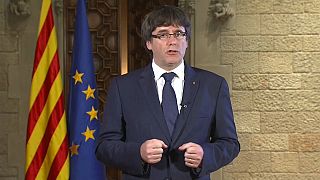 Spain's political crisis has rattled its economy and raised fears of prolonged unrest.
In Catalonia's regional capital Barcelona, many locals say they are apprehensive after its leaders said they would not accept direct rule from Madrid.
"I'm very scared," said 72-year-old Rosa Maria," and I think it's very hard, but of course the state is much stronger than Catalonia."
"He has a couple of possibilities," said retiree Enric, refering to the region's president Carles Puigdemont."
"Declare independence as he has committed, but this would aggravate the situation .. or try to reach a pact with the central state but that is also very difficult because the central government does not want to do so," Enric added.
Catalonia cannot accept 'illegal' control from Madrid
Puigdemont said the decision by Prime Minister Mariano Rajoy to fire the regional government and force a new election, which will be effective next Friday (October 27) was "the worst attack against the institutions and the people of Catalonia since the military dictatorship of Francisco Franco."
"I ask the parliament to meet in a plenary session during which we, the representatives of the citizens' sovereignty, will be able to decide over this attempt to liquidate our government and our democracy and act in consequence," Puigdemont said in a televised speech on Saturday (October 21).
Puigemont's comments were made in a televised speech just hours after Spanish Prime Minister Mariano Rajoy announced he could dissolve the regional parliament in Catalonia and call snap elections within six months.
Spanish Foreign Minister Alfonso Dastis told the BBC's Andrew Marr show on Sunday (October 22) he hoped people would ignore any direction from the Catalan leaders if Spain suspends the region's autonomy.
"We disregard, and I hope everyone will disregard, whatever instructions they will be planning to give because they will not have the legal authority to do that," Dastis said.
"All the government is trying to do, and reluctantly, is to reinstate the legal order, to restore the constitution but also the Catalan rules and proceed from there," he added.