Brinksmanship deepens crisis between Catalonia and Madrid
Comments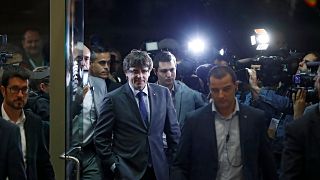 The leader of the Catalan nationalists and region's president, Carles Puigdemont, has written to the Spanish government in Madrid saying urgent talks were the only way to defuse the crisis, but insisting if they did not take place, the Catalan parliament would vote on a unilateral declaration of independence.
For Madrid, it is yet another "deliberate attempt to seek institutional confrontation", and sidesteps an ultimatum that expired on Thursday demanding Catalonia abandon its independence plans.
"In the absence of a clear and precise answer, the Government understands that it has not responded to its request and therefore will continue with the procedures provided for in article 155 of the Constitution with the aim of restoring legality in Catalonia," said government spokesman Íñigo Méndez de Vigo.
"That said no one doubts that the government will put all the means at its disposal to restore as soon as possible the legality and the constitutional order, to recover the peaceful coexistence between citizens and to stop the deterioration that the political and juridical insecurity, of which the "The leaders of the Generalitat are the only ones responsible, is causing in Catalonia an obvious economic and social detriment to all citizens," he added.
Spanish Prime Minister Mariano Rajoy holds an emergency cabinet meeting on Saturday when ministers will send a bill to the Senate demanding the unprecedented suspension of Catalonia's regional autonomy.
Watch in full: Spanish government statement on Catalonia