Trump drops 92 places in Forbes rich list
Comments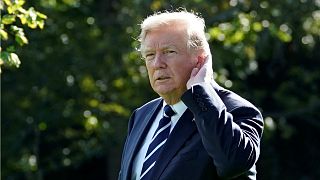 US President Donald Trump has fallen almost 100 places in Forbes' annual ranking of the 400 wealthiest Americans.
The magazine, which described Trump as the "most notable loser" of this year's list, cut his estimated net worth by $600 million (510 million euros) from the previous year.
Trump's fortune is now estimated at $3.1 billion (2.6 billion euros), putting him at 248 on the billionaires list, compared to 156 in 2016.
Forbes said Trump's fall of 92 places was the result of sliding New York property markets, a costly lawsuit over Trump University and an expensive presidential campaign.
It also noted that a handful of Trump's assets rose in value in the past year, including a hotel-condo tower in Las Vegas that he co-owns and his minority stake in a downtown San Francisco office building.
The president now shares a ranking with 27-year-old Snapchat creator Evan Spiegel.
Microsoft co-founder Bill Gates topped the list for the 24th consecutive year with an estimated net worth of $89 billion.