Azerbaijan and Armenia meet over disputed territory
Comments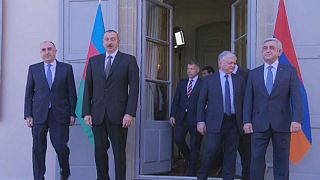 The presidents of Azerbaijan and Armenia have met in Geneva for the first time since June 2016 amid tension over the disputed territory of Nagorno-Karabakh.
Although recognized as Azerbaijan's territory, it was taken over by Armenian secessionists in the early 90s, and despite a 1994 peace deal, border skirmishes are a frequent occurrence. In 2016, these escalated, resulting in the deaths of more than 270 military personnel.
In an apparently 'constructive atmosphere', the two sides have resolved to speed up talks to end their conflict.