Ancient amphitheatre found in Jerusalem
Comments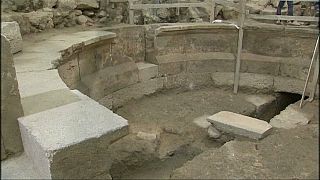 A small, half-built and roofed amphitheatre from 2nd-century Jerusalem has been unearthed during excavations below Judaism's Western Wall, the first such Roman-era find in the city, Israeli archaeologists said.
The 200-seat carved stone structure was found underneath a passageway leading to the raised esplanade where an ancient Jewish temple stood until it was razed by the Romans as they put down a rebellion in 70 AD.
Unlike larger, open-air Roman auditoriums, the amphitheatre was likely meant to be an odeon, for musical performances, or a city council meeting hall known as a bouleuterion, the Israel Antiquities Authority said.
"This is the first time that a theatre-like structure has been exposed in Jerusalem, so it's extremely exciting,"
"The design was also likely to have been in use during Jesus' time"
Work on the structure may have been halted because of a 2nd-century Jewish revolt against Roman rule. The find abuts the site known to Jews as the Temple Mount and to Muslims as the Noble Sanctuary, as it houses the Al-Aqsa Mosque complex.
The Western Wall, one of Judaism's holiest sites, is a remnant of the compound of the Second Temple that was destroyed nearly 2,000 years ago.