More than 200 die in Somalia car bombings - reports
Comments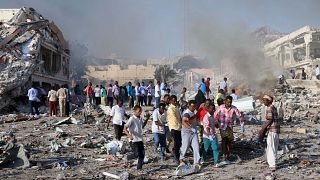 The death toll from twin bomb blasts that struck busy junctions in the heart of Somalia's capital, Mogadishu, has reportedly soared to more than 200.
It is one of the deadliest attacks since an Islamist insurgency began in 2007.
UPDATE: Bomb attack in Mogadishu kills at least 231, Somali senator says https://t.co/neMIZWdyvL

—

NBC

News (@NBCNews) 15 octobre 2017
What happened?
Police say a truck bomb exploded outside a hotel in the K5 intersection that is lined with government offices, restaurants and kiosks. Several buildings were flattened and dozens of vehicles set on fire.
Two hours later, another blast struck the capital's Medina district.
Who was behind the attacks?
It is not yet clear. There was no immediate claim of responsibility, although the Islamist militant group al Shabaab, which is allied to al Qaeda, stages regular attacks in the capital and other parts of the country.
The group is waging an insurgency against the UN-backed government and its African Union allies in a bid to topple the weak administration and impose its own strict interpretation of Islam.
The militants controlled Mogadishu between 2007 and 2011 but withdrew as fighting raged. African Union peacekeepers also drove them out of most other territory they controlled.
Three days of mourning
President Mohammed Abdullahi Farmaajo declared three days of national mourning. He has called for donations of blood and funds to victims of Saturday's attack.
#Somalia president donating blood. #mogadishoblast.more than 200 hundred pple injuried pic.twitter.com/GThlsLtYgc

— Abdirizak Atosh (@abdirizakatosh) 15 octobre 2017