Thousands in Nationalist march in Ukraine
Comments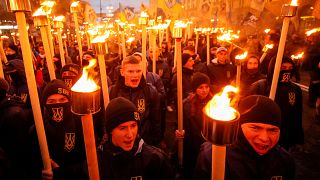 Thousands marched through the streets of the Ukrainian capital on Saturday (October 14) to mark the Defenders' Day and the 75th anniversary of a symbolic founding date of the Ukrainian Insurgent Army (UPA).
More than 20,000 people waved Ukrainian flags and flags of far-right National Corps, Right Sector and nationalists, Svoboda party. They chanted nationalist slogans, and lit flares and torches.
The UPA was a radical splinter group of the Ukrainian nationalist movement OUN (Organisation of Ukrainian Nationalists), founded by Stepan Bandera, a leader of Ukrainian fighters who fought both Nazi and Soviet forces during World War Two and after.
Stepan Bandera is seen by many in Ukraine as a hero of the independence struggle, but he's regarded by many in Poland and Israel as well as Russia, as a terrorist and Nazi collaborator who died with the blood of thousands on his conscience.