One of Japan's most famous artists, Katsushika Hokusai, gets a major exhibition in Rome
Comments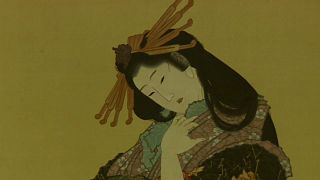 Until the middle of next January more than 200 works by one of Japan's most emblematic artists, Katsushika Hokusai, are on show in Rome.
Also included are works by his students, all contributors to the ukiyo-e school, which translates as "picture of the floating world". Many have never been shown in Italy before.
Amazing #animation of #hokusai's majestic #greatwave by fgreatstudio</a> for <a href="https://twitter.com/britishmuseum?ref_src=twsrc%5Etfw">britishmuseumhttps://t.co/O7rH5lxKay

— Luis Ramos Pinto (@lrpnto) September 20, 2017
Hokusai worked between the 18th and 19th centuries, and his entire collected works will displayed in a twin-phase rotation. They include two versions of his most famous work, "The Great Wave".

The Great Wave has inspired many artists and is one of the most imitated, and parodied works of art
On show are works by his star pupil Keisai Eisen, who is thought to have influenced the Impressionists, especially Vincent Van Gogh.