Spain's PM Rajoy asks Catalan parliament to clarify independence declaration
Comments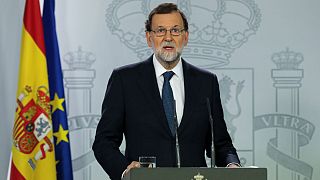 Spanish Prime Minister Mariano Rajoy today (October 11) asked Catalan leader Carles Puigdemont for more clarity on his declaration of independence from Spain.
He said the Spanish government was to discern "whether they (Catalan leaders) have or will make an independence declaration" before taking further measures.
Rajoy, who spoke after an extraordinary meeting of the Spanish government in Madrid, accused Puigdemont of creating "deliberate confusion" and wanted to "avoid any confusion created yesterday by Catalan authorities".
Watch the address live here

Concerning article 155, a constitutional clause which would allow Madrid to enforce direct rule, Rajoy said his government would base its response on an answer from Catalonia.
Puigdemont yesterday made a long-awaited speech before Catalonia's parliament announcing that he and other regional leaders had signed a declaration of independence from Spain.
However, the move will not be implemented immediately allowing for talks with the national government in Madrid.
Spain's Deputy PM María Soraya Sáenz condemned the move, saying Puigdemont had "plunged Catalonia into uncertainty".