Vote counting underway in Liberia's landmark election
Comments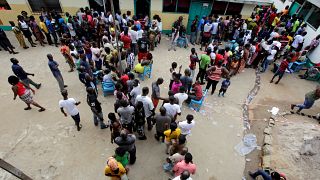 Vote counting is underway in Liberia where Tuesday's election to choose a new president and parliament saw a large turnout.
The elections, the third to be held since the end of a 14-year civil war in the West African nation, ended at 6pm local time.
Twenty candidates are vying to replace Ellen Johnson Sirleaf, the Nobel Peace Prize winner who took power at the end of conflict in 2005.
"Although all 20 of them hope to be the next leader of the country, the reality is that the race is among just about seven of them. Provisional results will be trickling in from across the country from now until the Electoral Commission finally declares the ultimate victor of these polls by October 25," reported Euronews correspondent Nii Akrofi Smart-Abbey from Liberia.
Huge turnout in #Liberia polls today. Security official tells me last time voters turned out this huge was in 2005. Less than 1hr to go.

— Nii Akrofi (@niismart) October 10, 2017
There's no clear frontrunner in the race, which includes ex-footballer George Weah and current Vice-President Joseph Boakai.
The election is seen as an important landmark in the West African nation that remains among the world's poorest.
The ballot passed off peacefully but the exercise was fraught with difficulties. Some voters were unable to find their names on the electoral roll; others blamed the electoral commission for not explaining the voting process properly.
One man told Euronews the queue was very long when polls opened, because people didn't understand the identity card system determining where they should vote.
Liberia's economy has grown enormously since the civil war but many feel Johnson Sirleaf could have achieved more; the president has been accused of nepotism and failing to crack down on corruption.
The country's policy has been to prioritise reconcilation over justice, meaning that prominent figures behind violence that killed a quarter of a million people are still on the political scene.
Many voters say they just want peace. A run-off between the top candidates is thought likely next month.
A woman kept this African nation out of war. Will men? https://t.co/wbmivn4Z1D

— The New York Times (@nytimes) October 11, 2017
with Nii Akrofi Smart-Abbey