"Sooner or later there will be a new referendum in Catalonia"
Comments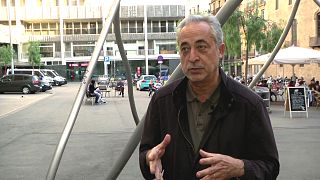 As deputy director of the Catalan newspaper La Vanguardia, dean of the College of Journalists and professor of journalism at the Autonomous University of Barcelona, Josep Carles Rius has been watching the situation unfold in Catalonia for four decades.
He spoke to euronews about the origins and the consequences of the crisis, and possible solutions. He believes "last weekend's protests|"http://www.euronews.com/2017/10/07/tens-of-thousands-rally-in-madrid-over-catalonias-push-for-independence show how deeply divided Catalan society is and he is convinced only dialogue can solve the problem.
Josep Carles Rius: "Well, I think that what's been going on Catalonia for many years is like a game of chess: each player has been making the moves, anticipating the consequences and trying to avoid mistakes. A few months ago, when it became clear that the independence process was entering its final phase, it turned into an action-reaction game.
Josep Carles Rius: "I believe other avenues need to be explored, other constitutional reforms that would be more inclusive and reflect this plurality of opinion. If not, the 'Yes' or the 'No' vote really will tear society apart. A society can decide to carry out a referendum but, if it does, people need to be aware that this causes fractures, and I believe that we are begining to see elements of this in Catalan society. These demonstrations are a reflection of this division."
The question now is what will the next move be in this game of chess: how does the President of the Catalan region, Carles Puigdemont, plan to respond to those who voted for independence while at the same time face the risk of having Catalonia stripped of its autonomy?
Josep Carles Rius: "Many of those who voted for independence don't really want independence. So the pro-independence parties must now act responsibly with this result. The question is what will be their next step? Will they make good use of it and give it an international dimension? Or will they make mistakes and loose what they have won?
"If Catalonia's autonomy is suspended, we can expect a reaction from a majority of people in society, both from those in favour of independence but also from those who want to defend Catalan institutions but don't aspire to full-blown independence."
The president of the Spanish government says dialogue is not possible with the Catalan authorities because they don't respect the Constitution and their plan is illegal.
Josep Carles Rius: "The problem is that the Spanish state doesn't want to talk, and that it is tempted to overthrow any aspirations for sovereignty, and this is a historical temptation on the part of what we could call the Spanish nationalists. They don't want dialogue, all they want is to crush sovereign aspirations for generations to come. This is a big temptation on the part of elements of society which we could call the hardest right-wing of the Spanish state."
The solution could come from the opposition Socialists. Their leader, Pedro Sánchez, is in favour of dialogue even if he opposes the Catalans' bid for independence.
Josep Carles Rius: "Here we have another factor. I think it's very important because the Spanish Socialist Party doesn't know how to position itself. I think it could play a very important role as a bridge between pro-independence parties and the unionist bloc of the Popular Party and the Citizens Party, but Pedro Sánchez is not taking on this role and I think that's a mistake. In my opinion, the Socialist Party has a historical role to play in this crisis."
In the wake of the demonstrations and with France and Germany expressing support for Spanish unity, the president of the Catalan region faces increased pressure to drop plans to declare unilateral independence.
Josep Carles Rius: "So that's the situation now. What is the problem now? The separatist movement is strong – it drew two million people to the polls – but it's not strong enough to face the Spanish state.
Josep Carles Rius: "We have two sides here: one wants the other to surrender, and the other obviously refuses to surrender. The only way out is through mediation or negotiation, we need to find points of agreement. The problem dates back to a decision by the Constitutional Court that declared unconstitutional several articles of the Statute of enlarged autonomy approved by referendum (in 2006). So if the problem started at the ballot box – when a decision voted by the Catalan people at the polls was overruled – then it must be solved at the ballot box. Sooner or later there will be a referendum – not a repressed referendum like this one, but a referendum agreed by all sides, with full democratic guarantees."