Israeli and Palestinian women hold peace march
Comments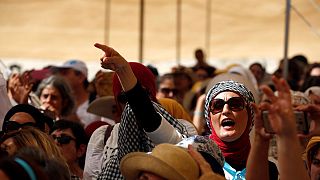 Thousands of Israeli and Palestinian women trekked through a biblical desert landscape converging on the shores of the Jordan River in a march for peace.
The women, many of them dressed in white, descended through the arid hills leading to the river, where they erected a "peacetent.
The activists, are calling for politicians to find a solution to end the decades-old Middle East conflict.
"We must reach a political agreement, we must change the paradigm that we have been taught for seven decades now, where we have been told that only war will bring peace," said Women Wage Peace activist Vivian Silver. "We don't believe that anymore. It's been proven that it's not true."
The march began last month at several locations across Israel and will culminate in a rally outside the Jerusalem residence of Prime Minister Benjamin Netanyahu.
"Women for the first time are raising their voice and asking for peace because they need it," she explained. "They need peace for the future of their own country and I am supportive of them ("Women Wage Peace") because I do believe that they have a very strong voice inside the Israeli society."
The organisers of the march set up the Women Wage Peace group after the 50-day Gaza war of 2014 when more than 2,100 Palestinians, mostly civilians, were killed. Israel put the number of its dead at 67 soldiers and six civilians.