Hurricane Nate claims lives in Central America, heads for New Orleans
Comments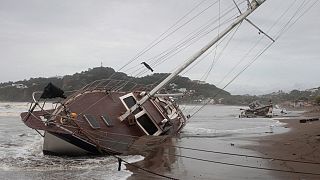 Preparations for Hurricane Nate are being made along America's south-eastern coast, and there are fears New Orleans, ravaged by Hurricane Katrina 12 years ago, could be in for another battering. Residents are stocking up before the storm. Others in high-risk areas are being told to leave.
"It was so painful, I cried." He survived Katrina. Got $10K+ in #hurricane relief. Now, he has to pay it all back. https://t.co/AbLGNa8VwF

— leslifoster (@leslifoster) October 4, 2017
Preparing for an early Sunday morning landfall of #Hurricane#Nate with significant impact for South Alabama. #mobwx#alwxpic.twitter.com/iKQqAXACcW

— Chris Dunn (@Chris_WPMI) October 6, 2017
"Our greatest threat from this particular storm is not necessarily rain but strong winds and storm surge. So given this threat, I am ordering an mandatory evacuation of Venetian Isles, Lake Catherine and the Irish Bayous in the city of New Orleans," said New Orleans Mayor, Mitch Landrieu. "I am instituting a mandatory curfew that will begin Saturday evening six o`clock pm. And ending Sunday morning. The city remains under a state of emergency as we prepare and I assure you and the public that we are very well prepared. We have a great team of first responders and organisers, we have been through this many, many times before and we are ready for whatever Nate brings our way."
#Nicaragua#storm. Huge amounts of #rain fell. https://t.co/SEDsEjvvWbnewnewspage</a> <a href="https://t.co/zVh2PUx9D9">pic.twitter.com/zVh2PUx9D9</a></p>— Breaking News (newnewspage) October 7, 2017
Nate has already claimed at least 12 lives in Nicaragua, nine in Costa Rica, and two each in El Salvador and Honduras. Thousands of people were evacuated and Costa Rica has declared a state of emergency.
#Storm#Nate: At least 22 dead in #CostaRica, #Nicaragua and #Hondurashttps://t.co/5zRuzQPfPjpic.twitter.com/CMD3lYEqE2

— Oden (@Gjallarhornet) October 7, 2017
Although it is only a Category 1 hurricane, the weakest, with winds of around 130 kph, it could gain strength over the Gulf of Mexico before making its American landfall.
#Nate is the 9th storm to cause fatalities this season. At least 23 killed in #CostaRica, #Honduras, and #Nicaragua from flooding. pic.twitter.com/EvkhyEeEQB

— Brenden Moses (@Cyclonebiskit) October 6, 2017