Catalan independence divides families - on Whatsapp
Comments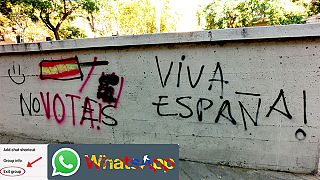 Catalan's independence referendum polarised public opinion in Spain and nowhere more so than on Whatsapp, the country's most popular social network. In an environment where friends, families, and colleagues are all connected 24/7 on the chat platform, discussion of the current events can quickly prove toxic.
"My family are talking about Catalan independence in a WhatsApp group and it's like hmmmm, I'm going to shut up,"

Twitter user
Dani Poch, from Teià in the Barcelona region, recalls how one of the members of a family group described Oct 1 as an "exciting and historic" day. Within hours, a heated debate ensued which resulted in some of his cousins from another part of the country leaving the group and others declaring the topic completely off limits.
María Herrero, who lives in Barcelona itself, witnessed exactly the same situation. She says that one of her siblings published a comment in favour of secession, which caused unease in the family group. To avoid confrontation, they agreed "to not talk about politics so that family harmony prevails." A group of her friends from gym also agreed to keep politics out of each other's message boxes.
It's a theme mirrored many times.
"Right now in a WhatsApp group: Yes for independence vs No for independence. My head's going to explode," wrote @Amanda3dg on Twitter.
Ahora mismo en un grupo de WhatsApp: independencia sí vs independencia no. Me va a explotar la cabeza.

— Amanda (@Amanda3dg) September 16, 2017
"My family are talking about Catalan independence in a WhatsApp group and it's like hmmmm, I'm going to shut up," commented @JoseCarrasco298
Están hablando por el grupo de WhatsApp de mi familia de la independencia de Cataluña y es como mmmmm me voy a callar

— Loseerss (@JoseCarrasco298) September 30, 2017
Indeed, the issue is so divisive that many are relutant to discuss their experiences in public. A student of the Autonomous University of Barcelona told Euronews that she was accused of being "fascist and Francoist" for describing herself as Spanish. As she says that most of
UAB
students are pro-independence, she is forced "to go against the current, in silence, with fear and tension". She says she has felt "helpless, sad."
"Division exists in many families," notes Mario Romeo, president of the Third Way platform that seeks more autonomy for Catalonia within Spain. "There are people who will never speak to each other again."
Of course, some groups do feel comfortable speaking about the issues but are nevertheless cautious about opening up the discussion more widely.
Josep Maria Garcia, an independence supporter, explains that "there is a good coexistence." He has friends who have different opinions, but on many occasions they meet to talk calmly. He regrets, however, that coexistence is difficult with "extremists."
Anna Lladó Ferrer for euronews