How did Las Vegas shooter fire so rapidly?
Comments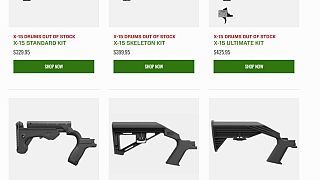 As soon as the rat-a-tat sound burst out over the music of the Route 91 festival in Las Vegas it was immediately obvious to those in the crowd familiar with firearms.
"It sounded like a machine gun," Meghan Kearney told MSNBC.
But even in the gun-mad state of Nevada, machine guns are extremely rare. Only "collectable" models produced before 1986 can be legally sold to civilians and even then they must be registered with the federal authorities.
It seems Stephen Paddock, the man pulling the trigger, may have used a legal loophole to convert a semi-automatic rifle into one capable of firing hundreds of rounds a minute.
A semi-automatic weapon releases one bullet each time the trigger is pulled, limiting the rate of fire to the speed of a human finger.
However, a device called a "bump stock", legally available online for a couple of hundred dollars uses an automated system to "bump" the finger against the trigger after every round, effectively creating a machine gun that will continue firing non-stop until all its ammunition is exhausted.
Technically as the finger is still coming into contact with the trigger each shot the device is not considered to be fully automatic.
The equipment can be simply fitted to a number of models of rifle.
Sources close to the investigation told the Associated Press that Paddock owned two bump stocks.
Experts pointed out that while automatic gunfire can travel great distances ─ 1,000 yards to 2 miles ─ it isn't very accurate.
"It's used in the military to put rounds over the tops of heads of people who are shooting at you to get them to stop so you can move forward," Nick Leghorn, senior editor at The Truth About Guns blog told NBC. "You can't aim, especially from a distance and height like that. It wouldn't be aimed fire. It would be indiscriminate."