Never stronger, yet divided: Europe's far right struggles with success
Comments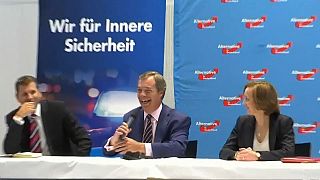 Britain's far-right nationalist party UKip holds its annual political conference in Torquay this weekend seemingly on the crest of a wave. It has obtained its primary policy objective, getting Britons to vote for Brexit, yet it is in disarray.
Conference will decide on the party's fourth leader in the last 12 months. Nigel Farage took it to triumph, yet now lends his support to similar politicians elsewehere.
He made a campaign appearance during the German elections with the far-right AfD, which surged to 12.5% support, entering parliament. Returning the favour, a senior AfD member will speak at the 2017 UKip conference.
Yet the AfD like UKip, as soon as it got close to power, saw divisions surface.
The morning after the its stunning electoral performance the leaders lined up exultant, only for co-founder Frauke Petry, the highest-profile member, to break ranks and walk out, saying she would not sit with the party's parliamentary group.
Europe's far-right is riven by factionalism, between those who want to engage with 21st century issues and those still fighting old battles.
It has been a similar story in France, where leader Marine Le Pen at the head of Europe's strongest far-right party, has lost her right-hand man Florian Philippot. He encouraged her to pursue a more anti-EU, nationalist line
rather than tolerate overt racism and attack migrants and minorities in the presidential elections.
The party old guard deemed this a failure, and Philippot's head rolled. Marine seems safe for now, but there is uproar behind the scenes.