Catalonia VS Madrid: who will win on Sunday?
Comments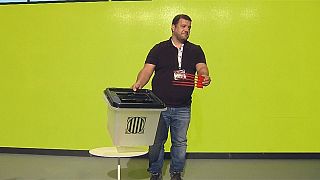 In clear sign that Catalonia means business the autonomous region unveiled a new ballot box in preparation for Sunday's (October 1) referendum on secession from Spain. Leading political figures in the region insist the vote, which has thrust Spain's central government into its most dramatic crisis in decades, will go ahead as planned.
But Catalonia, it seems, is adamant its citizens should be allowed to express their opinion.
"We are sure that the Catalan citizens will vote on Sunday", said Catalonia's Vice President, Oriol Junqueras i Vies. "And will do so with the same civilized and sensible attitude that they have always shown".
Madrid claims the vote is unconstitutional and has sent thousands of police officers to the region to thwart it.
"I begin by saying that on October 1, no referendum will take place in Catalonia. That referendum was called illegally, as the government has already said; the laws that support this referendum were suspended by the Constitutional Court", spokesman for the Spanish government Íñigo Méndez de Vigo insisted.
Spain's Prime Minister Mariano Rajoy said if a vote were to take place, the whole country should be involved, not just one region.
On Thursday (September 28), Spanish police carried out raids resulting in the confiscation of thousands of ballot papers and boxes.
Catalonia has called on the police to be professional and not to politicise their duties.