Yves Saint Laurent's Paris atelier opens up to public
Comments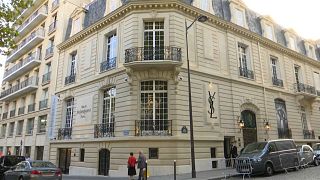 The Paris mansion where Yves Saint Laurent shook up women's dress codes has been turned into a museum.
Saint Laurent was a famously shy fashion designer, but starting on Sunday (Oct. 3), his creative studio on the posh Avenue Marceau will be open to visitors eager to catch a glimpse of his secrets.
"We're opening more than a fashion museum, we're opening an artist's house," said Olivier Flaviano, director of the Yves Saint Laurent Museum, arranging Saint Laurent's desk
"I think we're also opening a place of memoirs, which can be felt by the place, the objects, the voices of those who worked there, and a place of memoirs which bore witness to part of the history of the 20th century."
The museum, in an elegant 19th-century mansion, was inaugurated on Thursday (Sept. 28), less than three weeks after the death of its founder Pierre Bergé, who was Saint Laurent's partner and the businessman behind his success.
Nearly intact
Saint Laurent and Bergé spent 28 years working at this address, from 1974 to 2002, when the designer retired.
The atelier maintains its original layout, with Saint Laurent's desk on one side and his assistants' on the other.
In the bright room, Saint Laurent designed and created clothes and accessories that fascinated generations of fashion lovers – from ribboned hats to embroidered dresses and jewel-encrusted jackets.
The desk exhibited in the studio — a simple plank on a pair of sawhorses — is the one Saint Laurent used from 1962, when he presented his first collection. It has been left nearly intact, with Saint Laurent's tools including drawing pens and a pin cushion.
Behind it are glimpses of his personal relationships — a portrait by French artist Bernard Buffet, an Andy Warhol collage featuring Saint Laurent's dog and a picture of French actress and close friend Catherine Deneuve.
Visitors will also be able to walk past the lounges where Saint Laurent's clients were received for fittings after every new collection.
Along the corridors are his sketches, drawings and accounting books that recount the different stages a collection must go through before coming to life.
People who worked with the fashion legend appear on video interviews, talking about life in the atelier.
A separate museum dedicated to Yves Saint Laurent is scheduled to open on Oct. 19 in Marrakesh, Morocco, where the couple had a home.