Martin Schulz: a classic social democrat
Comments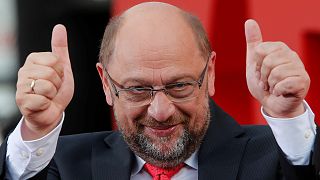 When Martin Schulz was nominated by Germany's Social Democrats (SPD) in March to run against conservative Chancellor Angela Merkel, everything looked possible.
Then the SPD suffered losses in several state elections. Ever since the campaign started, Schulz has been trailing Merkel in polls – but he has remained upbeat.
The campaign ends on Sunday September 24th at 18.00 sharp, as he likes to say.
Schulz has spent most of his career – 23 years – in the European Parliament, where he served as president from 2012 until he resigned (earlier this year) to contest the German election.
A familiar face in Germany, thanks to his full-blooded commitment to Europe, he often took to the airwaves to argue about the Greek debt crisis, Britain's vote to exit the EU or refugees.
Schulz has put social justice at the core of his campaign, but that has failed to gain much traction. Germans have generally enjoyed 12 years of prosperity under Merkel, and she has trumpeted her economic achievements – such as reducing unemployment – throughout the campaign. It is not easy to fight against your partner in coalition.
He has said that his party would not form any alliances after the election unless fair wages, free education, secure pensions and a commitment to a democratic Europe were guaranteed.