Iran vows to uphold nuclear accord
Comments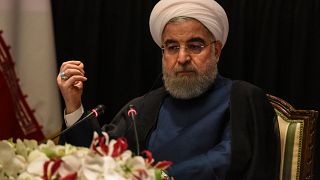 Hassan Rouhani has ruled out any fresh talks with the US on the 2015 nuclear accord. The Iranian president said it would constitute a waste of time with a country that would, in his words, flout its international engagements.
He told the UN General Assembly in New York:
"I declare before you that the Islamic Republic of Iran will not be the first country to violate the agreement, but it will respond decisively and resolutely to its violation by any party."
However, he added that Tehran did not expect Washington to abandon the deal, despite Donald Trump's criticism.
The US leader labelled the agreement "an embarrassment", but declined to comment on whether or not he would keep the pact.
France is pushing to continue with the accord.
"According to me, what we have to do it is to keep the 2015 agreement because it was a good one with a strong monitoring of the current situation," said French President Emmanuel Macron.
Trump has until October, 2017, to certify that Iran is complying with the nuclear deal. If not, US Congress will have 60 days to decide whether to reimpose sanctions waived under the agreement.
Rouhani said Iran could resume the higher level enrichment of uranium within days, if the accord collapses.