Human Rights Watch claims Myanmar "scorched earth" campaign is expanding
Comments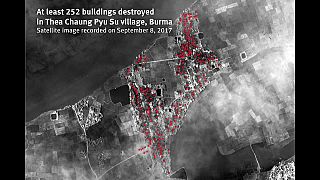 Human Rights Watch says it has new evidence of an expanding deliberate drive to force out Rohingya Muslims out from Myanmar.
The NY-based organisation has released satellite images that seem to show a huge increase in the number of villages that have been set alight.
#AungSanSuuKyi asks why so many #RohingyaMuslims are leaving? This is why. hrw</a> <a href="https://twitter.com/hashtag/Burma?src=hash">#Burma</a> <a href="https://t.co/dzvbGccsQj">https://t.co/dzvbGccsQj</a></p>— Hillary Margolis (hillarymargo) September 19, 2017
It now appears that the majority Rakhine Buddhist population have joined in with the brutal military-led campaign amid deep-seated tensions.
"This is a one-way ticket out of Burma in Bangladesh, and they will not be able to come back. People are saying not only were they chased out of their villages and shot at by the military and the police but as they left, their Rakhine village neighbours from nearby were coming to loot their properties and to burn down their villages," said Phil Robertson of Human Rights Watch.
Pro-government supporters say they've suffered as a result of the Rohingya insurgent attacks last month which sparked the crackdown.
Aid groups say with access still restricted, it's hard to draw an accurate picture. David Miliband from the International Rescue Committee told Euronews he fears the conflict is creating the conditions that gives rise to radicalisation.
"It's very important that political complexity within a country doesn't overwhelm fundamental rights. These untended humanitarian disasters are just the fuel for futher radicalisation and that is something that is going to dominate future UN general assemblies if it's not addressed now," said Miliband.
Rohingya refugee crisis: as 400k have fled, and 120k remain displaced, here's what you need to know by theIRC</a>: <a href="https://t.co/VPEzanGCwt">https://t.co/VPEzanGCwt</a></p>— David Miliband (DMiliband) September 16, 2017