Expert analysis on Hamas move for unity
Comments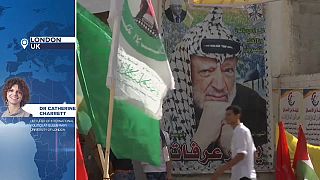 Many will be welcoming the news that the Palestinian Hamas group has said it is to take key steps to end a decade-old feud with rival faction, the Fatah movement. Proposing to dissolve its administrative committee, it's hoping this will pave the way for new elections involving both parties. But we've been here before. Back in 2011 and again in 2014, reconciliation was attempted, but it never went ahead. So what is standing in their way?
Dr Catherine Charrett is a Lecturer of international politics at Queen Mary University of London and has been studying the political situation surrounding Hamas for more than a decade.
"I think it's a sign Hamas is under pressure from the Egyptians principally to play a more active role in consolidation between Fatah and Hamas and I think also the PA and Fatah have been putting pressure on Hamas. So I think it's a sign that Hamas doesn't really have many options. But I think renewed elections would be important at this point to reinvigorate the democratic and governing system. I think (it would be) an all-round positive move"
But it's the timing of this announcement which may prove key to any lasting progress towards unity.
Dr Charrett went on to say:
"In my personal opinion I think one of the things that has to happen is that there has to be external support and European and American support for the reconciliation. And in 2014 crucially what you saw was initially there was a European response, and then Israel came out against reconciliation, and in my opinion they drove against reconciliation because that makes the Palestinian negotiating position even stronger"
And with just days to go before Fatah leader Mahmoud Abbas is to meet with US president, Donald Trump in New York, he will surely be looking to garner support for the process going forward.