Document raises fresh questions over decades-old case of missing girl
Comments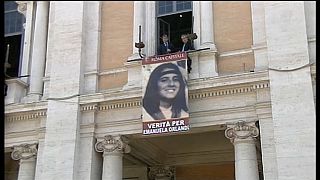 The family of a teenage girl who mysteriously disappeared more than 30 years ago are calling for answers after a document uncovered by an Italian journalist has raised fresh questions about the case.
Journalist Emiliano Fittipaldi claims the document shows how the Vatican spent 500 million lire, the currency used in Italy at the time, keeping Emanuela Orlandi away from the city state between 1983 and 1997.
It lists a series of expenses related to lodging and other costs in London.
The Vatican has strongly denied the authenticity of the document, labelling the claims "false and ridiculous".
Orlandi was 15 years old when she mysteriously disappeared on June 22, 1983. She was allegedly last seen getting into a large dark-colored BMW following a music lesson.
The unsolved case has gripped Italy and the Vatican City, where Orlandi and her family lived. Various sightings of the missing girl have been reported over the years, along with numerous theories about her disappearance.
While the authenticity of Fittipaldi's document has not been verified, Laura Sgrò, the lawyer of Orlandi's family, told Euronews that it corresponded with information she already had.
"Obviously I can't tell you who gave us this information. But as I've already said in June when I presented the motion to the State Secretary there were a few sources speaking about administrative documents regarding expenses done by the Vatican until 1997."
Sgrò added that even if the document is found to be false, it is still concerning.
"Of course, if it's authentic the scenario is disturbing… It speaks about Emanuela being alive until at least 1997. In case the document is not authentic, it's disturbing as well, because what was this document doing in the safe of the prefecture of the Papal Household. Is it false? For sure somebody put it in there on purpose," she said.
With the release of the document, Sgrò said she was renewing calls for the Vatican's State Secretary to receive her and the family to discuss the issue.
"We want the truth. We want some explanations. We want to re-open the dossier, we want verifications about the authenticity of this document. there are clues, places and dates, so there are elements to open again a dossier," she explained.