Myanmar's Rohingya crisis 'should not all be about Aung San Suu Kyi'
Comments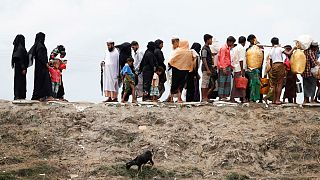 Britain and France have called on Myanmar's Aung San Suu Kyi to push for an end to military violence against Rohingya Muslims in Myanmar's Rakhine state.
With an estimated 15,000 refugees pouring over the Bangladeshi border daily, international pressure is mounting on the Myanmar leader.
"It is barbaric what is happening to the Rohingya, there can be no doubt about it. And of course, it's up to Daw Suu, state counsel and Aung San Suu Kyi to show leadership to try and impose her will on the military," said British Foreign Minister Boris Johnson leading the calls for Suu Kyi to act.
Nobel laureate Suu Kyi has faced a barrage of criticism from abroad about her apparent non-intervention in the crisis. However the head of aid agency, the International Rescue Committee (IRC), David Miliband sees it differently:
"I think it is very important that this does not become personalised around one person, and I think that it is very important in the week the United Nations General Assembly meets in New York that there is a unified message that says that the basic norms of human rights and protection of minorities but also the essential need for humanitarian aid to flow, that those norms are followed in Myanmar just as elsewhere and it's very important that the political complexity inside a country does not overwhelm fundamental rights."
Rohingya refugee crisis: as 400k have fled, and 120k remain displaced, here's what you need to know by theIRC</a>: <a href="https://t.co/VPEzanGCwt">https://t.co/VPEzanGCwt</a></p>— David Miliband (DMiliband) September 16, 2017
The violence began last month when Rohingya insurgents carried out several attacks, sparking a military crackdown and an a flood of refugees. Aung San Suu Kyi is due to speak to the nation today about the crisis which Washington says is a defining moment for Myanmar.
The one person who can stop Burma's ethnic cleansing of Rohingya Muslims isn't Aung San Suu Kyi. It's this general. https://t.co/zNJkoULvY7pic.twitter.com/FBWE0hDmsB

— Kenneth Roth (@KenRoth) September 14, 2017