Syrian forces capture key district in Deir al Zor
Comments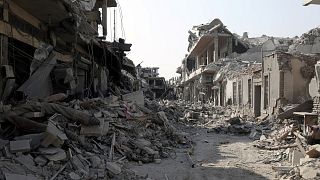 Syrian forces with the help of Russian air power claim to have captured a suburb of the eastern city of Deir al-Zor. It's part of an on going operation to retake the region from self-styled Islamic State.
Early this month the army pushed into Deir al-Zor breaking ISIL's three year-long siege of the enclave.
On Sunday ( Sept. 17) the Syrian army and allied forces captured the al-Jafra district.
Syrian army, allies close in on Islamic State in Deir al-Zor https://t.co/2pAxlfkc7Qpic.twitter.com/483xfGd47f

— Reuters Top News (@Reuters) September 17, 2017
Washington and Moscow are backing separate offensives in the oil-rich province. Both have advanced from opposite sides of the Euphrates.
The military operation has forced civilians along with suspected jihadists to flee across the river and seek shelter in a refugee camp in the desert.
Those who managed to get out have horrific accounts.
Most are women. Many of the men have either disappeared or fled.
"The planes carried out random bombardments. Children, people got killed, wounded, houses were destroyed. Only the elderly stayed, they couldn't leave."
Separate air strikes by Russia and by the US-led coalition have killed more than 34 people including children in the last 24 – hours according to a human rights monitoring group.