UN wants inquiry after Burundi migrants are killed in DR Congo
Comments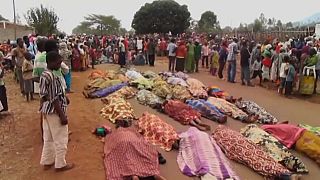 The United Nations is calling for an investigation after more than 30 people, said to be refugees from Burundi, were killed in clashes with security forces in the Democratic Republic of Congo.
Congolese police and soldiers opened fire as the migrants protested plans to send some of them home from the town of Kamanyola in the east of the country, activists say.
Maman Sidikou, head of the local UN peacekeeping team, MONUSCO, condemned the violence in which more than 100 people were injured.
.@UN@Refugees agency shocked & saddened by violent deaths in #DRCongo; those killed likely to include #refugeeshttps://t.co/pFs6FJc23s

— UN News (@UN_News_Centre) 16 septembre 2017
==
"This situation is deplorable when we see how our fellows were killed like beasts," said refugee Jimmy Nemeyimana.
"The government is saying nothing. How can that be? They threatened to kill us if we do not want to return home to Burundi. Justice must be done."
The death of a soldier during the protests is said to have triggered the bloodbath.
But a Congolese government spokesman denied those killed were refugees, saying clashes broke out when assailants from an unidentified armed group attacked an official building.
More than 400,000 refugees have fled Burundi – including 40,000 to neighbouring Congo – since violence erupted in April 2015 when President Pierre Nkurunziza said he would seek a third term in office, a move his opponents said was unconstitutional.
with Reuters