Sweden hosts huge war games exercise with NATO
Comments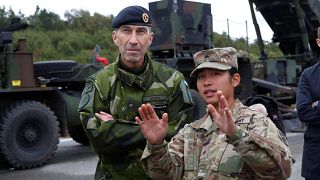 Sweden is undertaking its biggest military exercise in more than 20 years with support from NATO countries.
It comes as Russian forces begin their largest military maneouvres since 2013, assembling troops, military aircraft and combat helicopters in Belarus in an exercise called "Zapad" meaning "West".
Sweden is not a member of NATO but the exercise, called "Aurora", involves 19,000 troops and will simulate an attack from the east on the Baltic island of Gotland, near the Swedish mainland. Around 1,500 of the military personnel are from the United States, France, Norway and other NATO allies.
NATO generals say Aurora is not a response to the Russian exercises but there are concerns at Russia's growing military strength after extensive defence cuts by Sweden in recent years.
Following Russia's annexation of Crimea in 2014 and the fighting in Ukraine, NATO has increased its military presence in the three Baltic states.