Romania screens transfusions after West Nile disease outbreak
Comments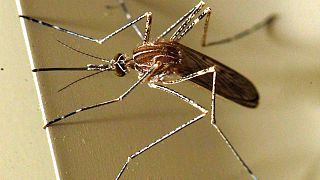 Medical experts in Romania are monitoring blood transfusions after six people died and another 16 were infected with West Nile disease.
The mosquito-borne virus eventually attacks the brain and can result in a serious infection called meningoencephalitis.
The measures are being taken because most of those infected do not have symptoms of the disease and it can be transmitted by blood transfusion.
The Romanian National Public Health Institute recommends that people avoid exposure to mosquitoes, wear long-sleeved clothes and install protection screens at the windows to prevent mosquitoes from entering houses.
Corina Posea, a doctor from the Bucharest Transfusion Center said: "We check every drop of blood that we collect because the West Nile virus can be present in the blood."
In Italy authorities are thinking of taking similar action after 13 cases Chikungunya were reported in Anzio, a seaside town south of Rome
The disease is also transmitted by mosquitoes, is rarely fatal, but it is extremely painful .
One patient who suffered from the virus said: "On Friday I had a lot of pain in a knee with high fever and I had a rash. On Saturday I went to the hospital in Anzio, where the doctor told me it was this fever…"
People staying in Anzio, the seaside town south of Rome have been ordered not to give blood for 28 days.