Kurdish independence referendum to go ahead in Iraq
Comments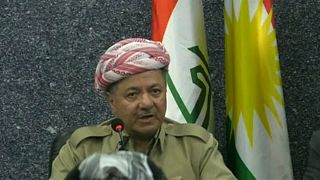 A controversial referendum on Kurdish independence in Iraq will go ahead according to Massoud Barzani, President of the Kurdistan Regional Government (KRG) in the country.
"The referendum will be held on time… Dialogue with Baghdad will resume after the referendum," he said in an official statement on the KRG website. He had earlier told a gathering in Kirkuk that the vote was a "natural right".
Kurds & Catalans have the right to self determination in their own lands. #Solidarity#TwitterKurds#Kurdistan#Catalonia#Referendumpic.twitter.com/YCEnOpZd7A

— Kurdish Solidarity (@Hevallo) September 12, 2017
"Unconstitutional"
The Iraqui parliament earlier voted against the poll being held, branding it "unconstitutional" and, authorising the Prime Minister to "take all measures" to preserve the country's unity. However, the resolution did not specify what these measures might be.
PM HaiderAlAbadi</a>: Myself and the Cabinet reiterate that Iraq is indivisible.</p>— Government of Iraq (IraqiGovt) September 12, 2017
The KRG has already seen its central government funding slashed in protest against its selling of oil directly to Turkey.
Kurdish lawmakers walked out of Parliament before the decision was taken. "Kurdish lawmakers walked out of (Tuesday's) session but the decision to reject the referendum was passed by a majority," said Mohammed al-Karbouli, a Sunni Muslim lawmaker.
Sunrise on the Irbil-Mosul highway. Waaay more Kurdish flags than last time I was here – referendum fever has well and truly set in. pic.twitter.com/Syli3iU8Ip

— Bethan McKernan (@mck_beth) September 13, 2017
Opposition to the referendum
Oil-rich Kirkuk voted last month to participate in the referendum, stoking tensions with its Arab and Turkmen residents.
Not all Kurds are keen on the referendum, however. One leading businessman, Shaswar Abdulwahid Qadir, has been promoting a "No for now" vote, arguing that an independence declaration would bring instability at a critical moment.
this democratic #KurdistanReferandum is in no way meant to create any hostilities towards any components of Iraq https://t.co/Vv3yu51pg6

— Masoud Barzani (@masoud_barzani) September 10, 2017
Western powers are concerned the 25 September vote will ignite tensions with Baghdad and distract from the battle against so-called Islamic State.
Neighbouring Syria, Turkey and Iran also oppose the move, fearing it could provoke uprisings amongst their own ethnic Kurdish populations.