North Korea threatens U.S. with 'greatest pain'
Comments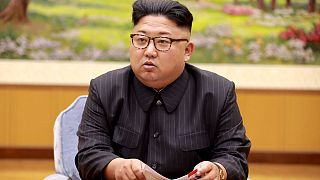 The war of words between the US and North Korea continued on Tuesday. President Donald Trump said the new sanctions agreed by the UN did not go far enough and more would have to be done, while North Korea's ambassador to the UN threatened the US with the greatest pain it has ever suffered.
"We had a vote yesterday on sanctions, said President Trump. "We think it was just another small step. It was nice to get a fifteen to nothing vote but those sanctions are nothing compared to what ultimately will have to happen."
However North Korea appeared to be unmoved by the latest development. Speaking at a disarmament conference in Geneva, the country's ambassador to the UN, Han Tae, did nothing to tone down the language, rejecting the new sanctions outright and calling the UN resolution unlawful:
"The Washington regime finally opted for political, economic and military confrontation. The DPRK is ready to use any form of ultimate means. The forthcoming measures by DPRK will make the US suffer the greastest pain it's never experienced in its history."
Although Monday's UN Security Council vote was unanimous, significantly including China and Russia, Pyongyang seems undeterred by the mounting pressure. The new restrictions on trade with North Korea might, over time, hurt its economy, but it is not clear if that will be enough to convince Kim Jong-un's regime to choose another path and halt its nuclear ambitions.
Supreme Leader Kim Jong-Un "shakes his booty" with leading atomic scientists, during raucous celebration of latest United States defeat. pic.twitter.com/2mahXFLntM

—

DPRK

News Service (@DPRK_News) September 11, 2017
The measures restrict oil imports and ban textile exports, and were approved after North Korea's sixth and largest nuclear test earlier this month.