Campaigning hots up for Angela Merkel
Comments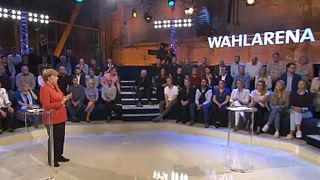 It has so far been a quiet run-up to the upcoming federal vote for the chancellor.
With an unprecedented six parties currently polling enough to get seats in the Bundestag, the exact make-up of the country's next government is anyone's guess.
Despite being elected Germany's first female chancellor in 2005, Merkel has not made women's issues a priority. Questions are now being asked.
At a TV debate, an 18-year-old with Downs Syndrome questioned the German Chancellor on her policy for abortion late in a pregnancy.
"We have agreed that late abortions, at the very least, require counselling, that it must be thought about for three days before the procedure can be carried out. It was already incredibly difficult to get a majority for that, because the view was that it should be the parents' free decision, especially that of the mother. I can see what a good person you are, I can only say I find it important that we have thought this over."
Opinion polls suggest Merkel's centre-right CDU could easily win a fourth term in the federal election on the 24th of September. A recent poll put her 14 points ahead of the Social Democrat SPD leader Martin Schulz
the debate. 1.17
Research suggests three coalitions may result from Germany's election: a two-way partnership between Merkel's conservative bloc and the FDP, another grand coalition with the SPD or an untested three-way alliance between Merkel, the FDP and the Greens.
The far-right AFD could win between 8 and 11 percent. However Merkel and her main rivals the SPD have ruled out any coalition with the party.