"BIN it, don't BLOCK it!" - Monster 'fatberg' is found in London sewer
Comments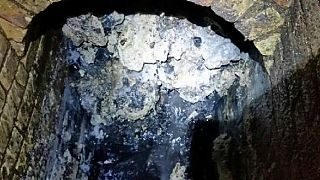 A massive ball of fat as long as 3 football pitches and weighing as much as 10 double decker buses has been found blocking a Victorian-era, east London sewer. It's the biggest ever seen in Britain.
The rock-solid mass is a mix of wet wipes, nappies, condoms, fat, and oil.
"It's a total monster and taking a lot of manpower and machinery to remove," said Thames Water's head of waste networks, Matt Rimmer. "It's one of the largest we've ever seen."
Rimmer is warning people NOT to put things they shouldn't down sinks and toilets.
"It's basically like trying to break up concrete," he said. "It's frustrating as these situations are totally avoidable and caused by fat, oil and grease being washed down sinks and wipes flushed down the loo."
"Bin it, don't block it" he added.
Work in Whitechapel to remove the blockage started this week and involves an eight-strong crew using jet hoses to break up the mass before sucking it out with a tanker. Thames Water said it will take about three weeks to move.
Four years ago a similar but smaller fatberg was found in a sewer in Kingston, southwest of London.