Hundreds of ISIL families detained in Iraq
Comments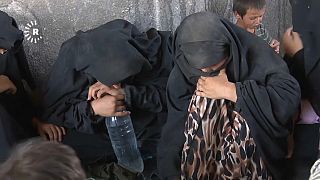 Authorities in Iraq are said to be holding some 1,400 foreign wives and children of suspected ISIL fighters. That's according to security and aid officials who say that they were held after Iraqi government forces pushed the group out of one of one of its last remaining Iraqi strongholds: Mosul.
A security officer said the Kurdish pershmerga handed the women and children over to Iraqi forces but kept the men in their custody.
"They are in quite a desperate state," said Melany Markham, Norwegian Refugee Council spokeswoman.
"We are providing life-saving assistance, food, water, shelter. What is uncertain is their future as they are not allowed to move further than this site. We want the Iraqi government to determine what's going to happen to them as soon as possible while still upholding their fundamental human rights. These people are civilians and need to be treated as such."
The wives and children are being held at an Iraqi camp south of Mosul. Many still wearing the abayas and face veils which were required in ISIL-controlled areas.
Reporters from Reuters news agency say hundreds were staying in bug-infested tents without air conditioning in what aid workers described as a "militarised site."
#Kurdistan#Peshmarga are dealing with ISIL families on pure human rights basis, almost all of them are foreigners, https://t.co/mQyiVSjnFj

— Ano Abdoka (Anu) (@AnoAbdoka) September 2, 2017