Del Toro wins Golden Lion at Venice for "The Shape of Water"
Comments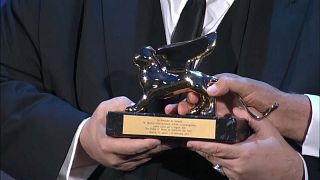 Guillermo del Toro's 'The Shape of Water' has won the Golden Lion award for best film at this year's Venice Film Festival.
Accepting the top prize from jury president Annette Bening, the Mexican director described his dark fairy tale as a portrait of hope – "as opposed to now," he said.
The film stars Sally Hawkins and Michael Shannon and tells the story of a mute cleaning lady who falls in love with an aquatic creature.
The runner-up Grand Jury prize went to family tragedy "Foxtrot" by Israel's Samuel Maoz.
Xavier Legrand of France won best director for his divorce drama "Custody." He also took home the Lion of the Future award for a debut film.
Charlotte Rampling received the best actress award for her performance in the Italian film "Hannah." This film is the first chapter in an Italian-Belgian-French trilogy centring on women.
Palestinian Kamel El Basha won best actor prize for his role in "The Insult."
The awards ceremony wraps up a 10-day movie marathon in which 21 international films competed for honours at the world's oldest film festival.