Spain challenges Catalonia independence referendum in constitutional court
Comments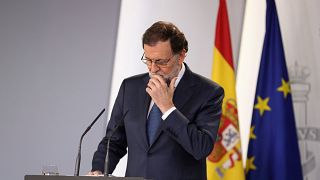 The Spanish government has moved to crush Catalonia's plans for an independence referendum, with the country's state prosecutor's office saying it will present criminal charges to members of the Catalan parliament who voted in favour of the ballot.
The local authority, which is controlled by pro-independence parties, on Wednesday approved legislation to allow next month's bitterly disputed vote to go ahead, however, Prime Minister Mariano Rajoy said that the referendum was illegal and poses an attack against Spain's institutional order, calling it an "intolerable act of disobedience".
"That's something that the government and the courts can't allow," Rajoy said in a televised address following an urgent meeting of his cabinet. "There won't be a self-determination referendum because that would be taking away from other Spaniards the right to decide their future."
Jose Manuel Maza, the state prosecutor general, said on Thursday that he had asked security forces to investigate any preparations by the Catalan government to hold the referendum in October.
According to Maza, two different lawsuits are being prepared: one designed to punish the MPs who allowed the debate to go ahead and vote on the legal framework of the planned ballot, and another against the executive branch of the regional government, whose members officially called the vote.
The referendum, which had been long awaited by many in the wealthy northeastern region, was due to take place on 1 October.
However, the Spanish government has called on the country's constitutional court, which has previously ruled that referendums can only be called with the approval of central authorities, to decide whether or not it is legal.