Desmond Tutu's public plea to Aung San Suu Kyi
Comments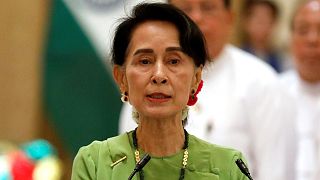 They are, by their own admission, close friends. But Nobel laureate Desmond Tutu has made a public plea to Aung San Suu Kyi over the plight of Myanmar's minority Rohingya Muslims.
In a letter published on social media, the archbishop called on the leader to speak out against the "unfolding horror," writing "what some have called 'ethnic cleansing' and others 'a slow genocide' has persisted – and recently accelerated."
"My dear sister: If the political price of your ascension to the highest office in Myanmar is your silence, the price is surely too steep. A country that is not at peace with itself, that fails to acknowledge and protect the dignity and worth of all its people, is not a free country.
"As we witness the unfolding horror we pray for you to be courageous and resilient again. We pray for you to speak out for justice, human rights and the unity of your people. We pray for you to intervene in the escalating crisis and guide your people back towards the path of righteousness," he wrote.
As we witness the unfolding horror we pray for you to be courageous & resilient again. #Rohingya#PrayForRohingyapic.twitter.com/BIDSYY9e1X

— DesmondTutu Official (@TheDesmondTutu) September 7, 2017
His comments come amid international condemnation.
My statement on the #Rohingya crisis in Myanmar: pic.twitter.com/1Pj5U3VdDK

— Malala (@Malala) September 3, 2017
Several calls have been made for Suu Kyi to be stripped of her 1991 Nobel Peace Prize, forcing the committee's chair to comment on the issue. Berit Reiss Andersen said "we do not have the mandate, nor is it our task to evaluate what Nobel laureates do after they have won the prize."
Suu Kyi broke her silence on Thursday (September 7), claiming that the idea of solving a decades-long problem in 18 months of governance was "a little unreasonable."
Rohingya refugees fleeing security forces in the northern Rakhine state say the army has attacked them and destroyed their villages.
According to the UN, 270,000 Rohingya have fled across the border into Bangladesh in two weeks, while more than a thousand people are estimated to have been killed.