Spain reacts to planned Catalonia referendum
Comments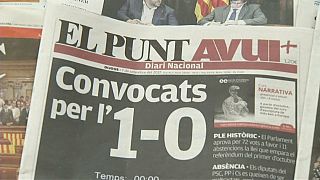 As Spain begins to grapple with Catalonia's planned vote on independence, residents of Barcelona, capital of the autonomous state, welcomed the news.
Dolores, 55-year-old receptionist, is a Barcelona resident.
"The truth is that we are delighted," she says. "We were waiting for this moment for many years and we think that it is really a democracy to allow people to give their opinion about how they want to live and how they want their country to be."
But in the Spanish capital Madrid, some questioned the legality of Catalonia's decision.
"Its is awful. I don't care if they have passed it (the law)," Madrid resident Raquel said on Thursday. "They (the Spanish government) shouldn't let them pass it. What they are doing is ridiculous. If we are Spaniards we are Spaniards and that is it."
And those questions about the status of the planned October vote will complicate an already contentious situation, says political analyst Antoni Gutierrez-Rubi.
"To reach a binding referendum, you need a political and legal agreement with the Spanish kingdom and the Spanish government – something that we don't yet have. There is also a series of well-established charcteristics and conditions that have been tried and tested around the world – as we saw recently in the Scottish independence referendum. Here, none of those conditions are in place."
Nevertheless, the Catalan government is determined to bring independence to a vote – despite threats from Madrid to intervene.
"The Spanish government can stop the referendum and act very forcefully against it, but it can't change the fact that there is a large majority of people that wants to see a resolution of this disagreement, this problem, bewteen Catalonia and Spain, through a democratic framework," explains Gutierrez-Rubi. "And at some point that will means a vote or referendum."
Though the debate will continue, for now at least, that vote will take place on October 1.