Catalonia defies Madrid and goes for independence poll
Comments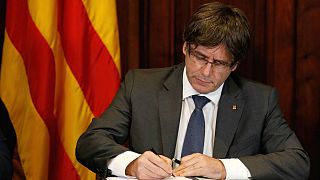 Catalonia's parliament has voted to hold an independence referendum on October 1 in defiance of Spain's central government.
The region's president and cabinet members signed the bill into local law almost immediately.
They also approved a legal framework to declare independence within 48 hours of a "yes" vote.
Spain's wealthy north-eastern region already has autonomous powers but some want full secession.
After the vote Catalonia's President Carles Puigdemont was convinced the referendum was the way forward:
"We call on the citizens of our country to decide what kind of future they want for Catalonia. Whether they want the current path of autonomy with a limited statute or a new direction as an independent state in the form of a republic."
#Catalonia makes it official: They want out of #Spain by 2017 https://t.co/yei6UUYj00#1octubre2017#indyref#ReferendumTV3#8aldia

— Anna Aroca (@AnnaAroca) September 6, 2017
Evidently anticipating success in the vote on independence, ballot boxes, voting papers and an electoral census are at the ready, according to Puigdemont.
Opposition
But not all Catalan lawmakers backed the move. Members opposed to independence abandoned the chamber before the vote, with some leaving Catalan flags on their empty seats.
Eventually the voting went 72 in favour with 11 abstentions in the 135-seat chamber. The result was greeted by a rendition of Catalonia's regional anthem.
Santiago Rodriguez, member of Catalan 'People's Party' was confident the bill would be suspended.
"Tomorrow these new laws will be history because fortunately Spain is a country with the rule of law… where democratic institutions are effective.,,, the Constitutional Court … will declare it null and void."
Spain's Prime Minister Mariano Rajoy who is to hold an emergency cabinet meeting, has vowed to use the full force of the law to stop the referendum which he says is illegal. Spain's courts have already suspended from office and levelled millions of euros in fines at Catalan politicians who organised a non-binding referendum in 2014, which returned a "yes" vote on a low turnout.
The big moment arrives: Catalonia passes bill for vote on independence from Spain https://t.co/9VnE6X7ziV via FT</a></p>— Michael Stothard (MStothard) September 6, 2017