Catalonia defies Madrid and sets independece referendum date
Comments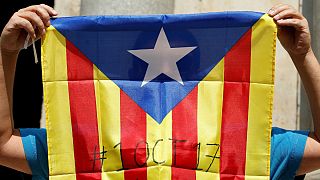 The Catalonian regional government has chosen a date for its referendum on independence that Madrid has ruled illegal.
The question that Catalans must answer on October 1st is : "Do you want Catalonia to be an independent state in the form of a republic?"
Regional President Carles Puigdemont is confident of the result:
"The answer given by our fellow citizens, in the form of Yes or No, will be a mandate that this Government is committed to implement.
It is up to the Catalans to decide their future," he said.
The response of the Spanish Executive has come immediately. The government spokesman, Íñigo Méndez de Vigo, reminded everyone
that the referendum is unconstitutional.
"The resolution of the Constitutional Court in February 2017 established exhaustively that any preparatory act signed by the Government
or by any Catalan institution is an act contrary to the law and will have the corresponding legal consequences," he warned.
The minister has reiterated his invitation to Puigdemont to come to the Parliament in Madrid and dialogue with representatives of
national sovereignty. According to surveys, just over 44 % of Catalans support independence, compared to 48% who are against it.
Six out of ten do not believe that the independence of Catalonia will become a reality.