Moscow and Seoul agree resolving the North Korea nuclear issue is a priority
Comments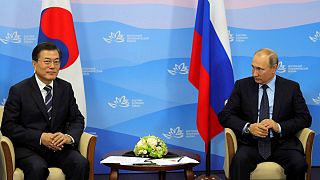 South Korea's President says he and his Russian counterpart share an understanding that resolving the North Korean nuclear issue is a top priority.
Moon Jae-in made the comments at a joint media conference with Vladimir Putin.
Moon, who came to power this year advocating a policy of pursuing engagement with North Korea, has come under increasing pressure to take a harder line.
He has asked the UN to consider tough new sanctions after North Korea's latest nuclear test.
JUST IN: South Korea's #MoonJaeIn calls for new UN sanctions on North https://t.co/ag0ae3KNo5pic.twitter.com/uvOnBAPloU

— The Straits Times (@STcom) 3 septembre 2017
What did Moon say?
That the Russian leader expressed his full support for South Korea's efforts to handle issues related to North Korea.
Moon and Putin met on the sidelines of an Eastern Economic Forum in the Russian city of Vladivostock.
"I ask Russia to actively cooperate as this time it is inevitable that North Korea's oil supply should be cut at the least,"Moon told Putin according to officials.
What did Putin say?
That resolving the North Korean nuclear crisis is impossible with sanctions and pressure alone.
Putin denounced North Korea's sixth and largest nuclear bomb test on Sunday. He says Russia did not recognise its nuclear status.
"Pyongyang's missile and nuclear programme is a crude violation of UN Security Council resolutions, undermines the non-proliferation regime and creates a threat to the security of northeastern Asia," Putin said at the joint news conference.
"At the same time, it is clear that it is impossible to resolve the problem of the Korean peninsula only by sanctions and pressure."
BREAKING: Russian President Vladimir Putin calls for talks with North Korea, says sanctions are not a solution.

— The Associated Press (@AP) 6 septembre 2017
Putin, after meeting South Korean leader, calls for talks on North Korea crisis https://t.co/k3vO34Njgopic.twitter.com/H1Ew3EpQ2g

— Reuters Top News (@Reuters) 6 septembre 2017
What are the diplomats saying?
That the UN Security Council could consider banning North Korean Textile exports, barring its airline or stopping supplies of oil to the government and military.
Other measures could include preventing North Koreans from working abroad and putting top officials on a blacklist aimed at imposing asset freezes and travel bans.