Hurricane Irma hits French Caribbean
Comments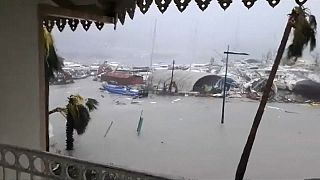 Packing winds of almost 300 km per hour, Hurricane Irma has hit the French territory of Saint Martin – leaving a trail of destruction in its wake.
The Category 5 storm brought a catastrophic mix of wind, surf and rain to the Caribbean island, where electricity is cut off and telephone calls are almost impossible.
Photographs posted to Twitter show flooded hotels and streets and local news footage captures the ferocity of the winds barrelling through the region.
Another French territory, Guadeloupe, was also in the path of the storm, but sustained less damage.
Satellite images of Irma – one of the most powerful Atlantic storms in a century – show the eye of the hurricane to be about 50 km across.
Saint-Martin and Anguilla appear to have taken a direct hit by cat 5 Hurricane #Irma. #GOES16pic.twitter.com/1CN1JL0GEC

—

NASA

SPoRT (@NASA_SPoRT) September 6, 2017
After Guadeloupe and Saint Martin, Irma keeps moving eastward toward Cuba, Puerto Rico and the Dominican Republic. It may also make landfall in the US state of Florida, although the storm's path is still uncertain.
Irma would be the United States' second major storm in as many weeks, after Category 4 hurricane Harvey left Texas and Louisiana reeling at the end of August with an estimated $180 billion in damage.