Judo World Championships Day 5Serbia, Puerto Rico, Cuba take home medals
Comments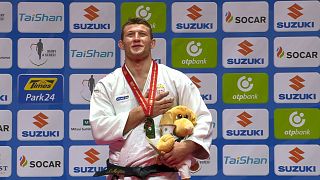 The Japanese judoka have dominated the world championships so far but the winds of change finally arrived yesterday when Germany took home a surprise gold in the men's.
That victory may have inspired Nemanja Majdov at the end of day five. The Serbian produced some of his best work on the tatami to become World Champion in the under 90 kilogram division.
After a display of some great ippons during the day Majdov failed to score in the final. He didn't need to, as his opponent, Slovenian Mihael Zgank lost by shido at the Golden Score.
Majdov was clearly in great shape, but even he spent much of the day in the shadow of his experienced fellow compatriot and world number one Aleksandar Kukolj.
Kukolj's glittering list of achievements includes two grand slam golds and another gold earlier this year at the European Judo Championships. But for once he wasn't firing on all cylinders, having been defeated by Mihael Zgank earlier on in the day.
It was Majdov's time to shine and step into the limelight.
His best performance before today was a first place finish at the Junior European Championships in 2016.
An ecstatic Majdov said:
"I can't explain it because I don't know what happened. When I was a kid I started judo at six years old. My father was my coach, I dreamt of becoming world champion. I didn't know I would be at this age, I'm 21, it's my first year as a senior. Eight weeks ago I wrote on Instagram, 'The next world champion'. For some it was funny. But no risk, no glory."
The women's under 70 kilogram category simply delighted everybody as there were no losers.
Japan's Chizuru Arai went up against María Pérez, from Puerto Rico in the final.
Arai took home the gold, a thrilled and deserving world champion.
But Pérez was equally delighted because the silver was her first ever medal at a world championship.
Their fight end with the Japanese judoka scoring shime-waza.
It was yet another medal for the Japanese team, further cementing their grip on these championships and bringing their gold medal tally to six so far.
The Japanese judoka said:
"This is the title that I've been dreaming of. So to be able to win this World Championship is absolutely incredible."
Robert Van de Walle was our VIP guest of the day, the Olympic champion in Moscow 1980 and two-time world vice-champion.
"What stays is the friendship between athletes after all these experiences with fights, when winning, when losing and that is for me a great thing and I can see it is still there. I can see the athletes when in the first day they look to each other to measure each other and then they do their fights but after that they shake hands and the friendship will stay forever and…for life I think."
And the Moment of the Day featured Cuba's Kaliema Antomarchi, who eliminated Hungarian and world number 4 Erdelyi-Joo in the second round of the under 78 kilogram category.
The Cuban scored ippon with a perfectly weighted foot sweep and went on to take bronze.