Asia floods leaves millions homeless
Comments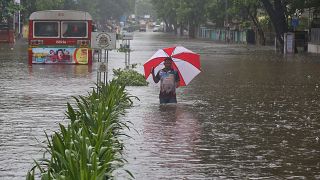 While all eyes have been on the havoc wreaked by Hurricane Harvey, more than 1,000 people have been killed as a result of devastating floods across India, southern Nepal and northern Bangladesh over the last two months.
Some 40 million more have seen their homes, businesses or crops destroyed.
Mumbai has been especially hard hit, with water swamping offices, schools and roads and about 60 people killed.
According to the Save the Children charity, 18,000 schools have been damaged leaving 1.8 million with no classes.
Let's not forget, flooding in Bangladesh, Nepal & India has left 1,200+ dead & 2 million homeless whilst flood in Sierra Leone killed 1000+ pic.twitter.com/Z4t9AlvraN

— Stefan Simanowitz (@StefSimanowitz) 29 August 2017
Experts say Indian officials are doing little to reduce the risks.
Shreeshan Venkatesh, researcher at Centre for Science and Environment: said: "For a large part, we don't integrate climate models, climatic events into the way we plan things.
"Be it infrastructure or, you know, development, industry, whatever. And if we don't do this, we are going to face greater damages. We tend to look at it as a disaster rather than something that is an inevitability that we need to plan for."
Venkatesh added: "All the models have been predicting that the intensity and the frequency of these kinds of events are going to increase as we go further into this century.
"And, I think we are already beginning to see that now. We are already on the trajectory being described by these projections and these models. So, as we go on further we're going to see more of this kind of intense simultaneous drought, flood kind of situation."
While there have been some improvements and better protocols for disaster response, scientists are warning that flooding events will only become more frequent, as climate change brings stronger storms and makes rainfall more erratic.
Millions of people in #India#Bangladesh#Nepal affected by flood. #UnitedNationspic.twitter.com/YyNt5ZIvOe

—

IASC

(@iascch) 23 August 2017