Texas store apologises after bottled water offered for €35 in storm aftermath
Comments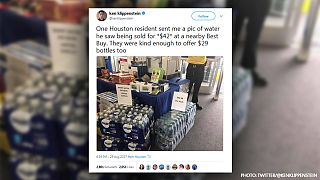 A major US retailer has apologised after it emerged one of its stores in Texas was selling cases of bottled water for more than $42 (35 euros).
Best Buy, a chain of consumer electronics stores that also sells some snacks, claimed it was an isolated mistake.
It comes as flood-hit Texas said it was investigating hundreds of complaints of price gouging – when stores sell at exploitative rates.
It includes reports of loaves of bread being offered for $15 (12.60 euros), fuel for $100-a-gallon (84 euros) and hotels raising room rates.
Journalist Ken Klippenstein tweeted pictures of water being sold for $42 in Cypress, around 40 kilometres from Houston.
Texas AG tells me they received 550 complaints & 225 emails about price gouging, with more coming in consistently: https://t.co/EpCWAiTSmM

— ken klippenstein (@kenklippenstein) August 29, 2017
Best Buy said in a statement: "This was clearly a mistake on the part of a few employees at a single store on Friday, August 25.
"We feel terrible about this because, as a company, we are focused on helping, not hurting people affected by this terrible event.
"We are all deeply sorry that we gave anyone even the momentary impression that we were trying to take advantage of the situation.
"By way of explanation, and not excuse: we don't typically sell cases of water and don't have pricing for it in our computer system. The mistake was made when employees at this one store priced a case of water by multiplying the cost of one bottle by the number of bottles in a case – arriving at a number that is far, far higher than a normal price for a case of water."