Massive new bridge opens to traffic over Scotland's River Forth
Comments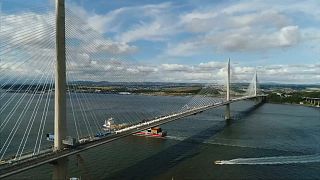 It is being described as the longest bridge of its type in the world and the biggest infrastructure project in Scotland in a generation.
The new state-of-the-art Queensferry Crossing over the River Forth opened to traffic on Wednesday.
The 2.7-kilometre bridge is the third in as many centuries to link Edinburgh and the north of Scotland.
Construction took six years and cost some 1.35 billion pounds.
It reaches 210 metres (690 ft) above high tide, standing as tall as around 48 London buses stacked on top of each other. Barriers deflect the wind and shield vehicles from the huge gusts common on the Forth.
The state-of-the-art engineering feat needed 35,000 tonnes of steel for the superstructure and 150,000 tonnes of concrete. Construction took six years. Although the project overran by 10 weeks, its cost of 1.35 billion pounds (1.46 billion euros) is 235 million pounds below budget.
"The Queensferry Crossing is a symbol of a confident, forward-looking Scotland and – as well as providing a vital transport connection for many years to come – it is a truly iconic structure and a feat of modern engineering," said Scotland's First Minister Nicola Sturgeon.
The Forth Bridge, a red-coloured rail bridge that has become a UNESCO World Heritage site, opened in 1890, the first major structure in Britain to be made from steel.
The second Forth Bridge, a road which will now be used primarily for public transport vehicles, opened in 1964.