New York hikes cigarette prices to 13 dollars per packet
Comments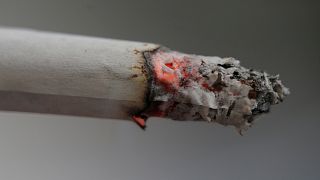 New York City Mayor Bill de Blasio has boosted the minimum cost of a packet of cigarettes to 13 dollars, or around 10.80 euros. The price hike, of 24 percent, is part of the US city's biggest squeeze on smoking in recent years.
According to the World Health Organization, tobacco kills more than seven million people each year.
Under the newly-signed legislation, a cap has also been placed on the number of tobacco sellers and pharmacies have been banned from selling cigarettes. A minimum price is also to be added to other tobacco products.
"Look, we know this works. We know that people make decisions based on their economic reality. By increasing the price, fewer and fewer people will choose to use these products. And we think that alone is going to reduce smoking by about six percent."
"A place that you go for healthcare should not be selling you deadly products," De Blasio added.
It seems the WHO agrees. It advocates elevating the tax on cigarettes as the most effective way to stem tobacco use.
The cost of cigarettes fluctuates wildly throughout the US, with packets available in parts of Missouri for as little as 3.84 euros.
Tobacco industry analysts claim de Blasio's move will have little impact, and say consumers will still buy, regardless of price increases.
Europe
Norway is the most-expensive place in Europe to buy cigarettes, based on figures for the most widely-sold brand worldwide.
Statistics suggest smokers there spend 0.39 percent of the average monthly salary on cigarettes and 24 percent of adults smoke.
In Ukraine, where "cigarettes are cheapest": http://www.euronews.com/2017/07/05/where-can-you-find-the-cheapest-and-most-expensive-cigarettes-in-europe, the figure is similar, at 0.35 percent, while around 26.3 percent of adults smoke.