'I'm in love with more than one person but it's not cheating because they all know'
Comments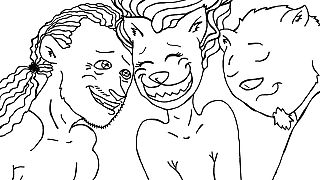 Beatrice Gamba, 33, lives in Thiene, a small town in northern Italy. She has a fiancé, with whom she has been in a relationship for the last seven and a half years and a boyfriend with whom she has been together with for the last eight months. "I can fall in love with more than one person at a time," she says. But it's not cheating because they all know about each other."
I don't expect sexual freedom to be a thing anytime soon. Especially not for women

Polyamorous Blogger
Polyamory, a practice of having more than one intimate relationship simultaneously, with the consent of all partners. Unlike open relationships, where couples have casual encounters with other people, poly relationships involve an emotional connection with all partners.
The size of poly community on the internet is growing, while debates, book promotions, and regular get-togethers take place in all major Italian cities. But even though anecdotal evidence suggests that it is on the rise, many polyamorous Italians often fear stigma and discrimination.
"In Italy, I was much more likely to be judged and I was much more afraid of being judged," says Davide from Milan, comparing his home country to Germany where he has lived since 2015. He has been engaged in consensual non-monogamous relationships for the last eight years. "When I moved to Berlin, I felt much more free to talk about my relationships lifestyle – even with my co-workers – and I felt no judgment."
Intolerance towards polyamorous people is not a uniquely Italian phenomenon, however. According to a 2015 poll by YouGov , just over one third (34 percent) of British adults find polyamory morally acceptable. In addition, 47 percent consider it morally wrong. The same pollsters found out that attitudes towards polyamory are closely linked to religious convictions. In the US, 80 percent of those who say that religion is 'very important' believe that polyamory is wrong, but among people for whom religion is 'not at all important', 58 percent say that polyamory is morally acceptable.
The Catholic Church plays a significant role in Italian society and, in the eyes of many, keeps it overly traditional and repressive. The LGBTI community is often seen as tolerated but socially disadvantaged and Italy was the last Western European nation to legalize same-sex civil unions last year.
"Being near Vatican really doesn't help. Even for convinced atheists and non-practicing Catholics, bigotry and prejudice still very much shapes their whole life," says Beatrice who identifies as polyamorous and bisexual.
Because of what she is, she says, she was harassed by her colleagues in some of her previous jobs. "As soon as they knew I was in an open relationship, this systematically happened to me: all the male co-workers hit on me hard, some of them were to the point of being creepy and harassing me, and all the female co-workers badmouthed me and tried to find excuses to get me fired."
According to a recent international study on consensual non-monogamous relationships, more than 25 percent of polyamorous individuals have experienced discrimination. The research revealed that polyamorists didn't necessarily feel as though all of their relationships were equally accepted and, furthermore, the relationships that were less accepted tended to be kept secret.
"I don't expect sexual freedom to be a thing anytime soon. Especially not for women," says Beatrice who blogs about polyamory and works on a poly web-comic called Love Flavored Ice Tea to reduce stigma around polyamory.
For the same reason, a group of activists established Poliamore.org , a web site that promotes polyamory and organizes events for polys in Italy. One of its founders Luca Boschetto says that Italian poly online community has grown rapidly since 2009, when the first dedicated Facebook group was founded and now there are many social media pages and groups which gather Italian polys.
Besides the online sphere, polyamorous Italians organize offline events such as poly aperitif (popular Italian happy hour drinks), poly dinners, discussions and movie screenings. The second annual OpenCon conference about polyamory will take place from 1st to 4th September in Matigge di Trevi.
In Beatrice's opinion, that kind of support is essential: "There is this subculture though, a sort of phantom Italy where LGBT people, kinksters and poly people meet and hang out with each other, and it makes it a bit more bearable."
By Lidija Pisker. Main image Beatrice Gamba