Judo honours great and good on its 65th anniversary
Comments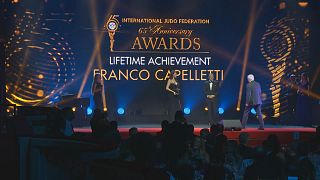 Happy Birthday Judo. 65 Years together.
The sport has grown up and become an adult.
To celebrate its anniversary, The International Judo Federation chose the setting of the Hungarian state Opera in Budapest.
It was an opportunity to enjoy being together, to honor the present and remember the past.
Judo does not forget its fathers, its legends and therefore it was time for lifetime achievement awards.
"I've always been involved in judo, I've done every job in judo, says President of the French Judo Federation Jean-Luc Rougé!
"I have been a manager, a trainer, a fighter, a teacher in a club, a small club…. For me above everything it's always been a pleasure. I don't know what I would have done if it wasn't for judo."
Italy's Franco Capelletti was recognised for his services to judo as he was awarded the Lifetime Achievement Award.
Former judoka, Franco Capelletti
''Thank you very much Mr. President, said Capelletti on receiving his award. 'Excuse me ladies and gentlemen. For me in this moment, it is very difficult to speak because I have much emotion.''
Judo also honored its present day stars Majlinda Kelmendi and Teddy Riner.
Overall it was a chance to relax, so please , sit back, relax and enjoy.