Vladimir Putin to visit Hungary trade talks and judo
Comments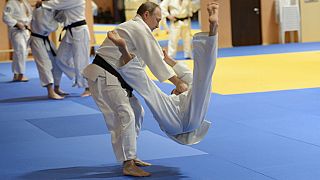 The Russian President Vladimir Putin arrives in Hungary on Monday for a state visit with a difference.
Officially, the world leaders' love of judo is bringing him to Budapest for the opening ceremony of the sport's world championship.
He is after all the honorary president of judo's governing body, the International Judo Federation.
Putin to visit #Budapest for the World Judo Championships: https://t.co/aekOwD1KR6pic.twitter.com/9sOaFN9YxW

— We Love Budapest (@welovebudapest) August 25, 2017
But the trip, his second this year to meet Hungary's Prime Minister Viktor Orban, is also about strengthening ties with a rare-EU ally.
Putin will be given an honorary citizen award in recognition of Russia's role in developing the Paks nuclear plant, Hungary's first and only atomic energy facility.
That's far, however, from being their only common point of interest.
Many of their fiercest critics say both men have taken similar action to quell popular protests over wide-ranging issues such as civil rights or press freedoms.
Brussels and Hungary's neighbours have also expressed concern over Budapest and Moscow's new relationship fearing it may weaken Western sanctions imposed
over Ukraine.
Both leaders may well want to talk tactics regarding what Orban calls the "new world order".
Russian President Putin visits Hungary to meet with Prime Minister Orban https://t.co/Ygtpp6W9E9pic.twitter.com/q5b6sHnNMO

— Collabregator (@collabregate) August 27, 2017