Man with weapon arrested outside Buckingham Palace in London
Comments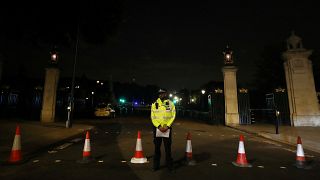 A man with a "large knife" who assaulted two police officers outside Buckingham Palace on Friday night has been arrested and is being questioned by counter-terror police.
The officers suffered minor injuries and were taken to a hospital for treatment. The 26-year-old man was arrested on suspicion of grievous bodily harm and assault on police.
No members of the royal family were present in the palace at the time.
A Reuters witness near the scene said police had cordoned off a large area for security, including The Mall, a wide avenue leading up to the palace.
In a statement, police said "The man was stopped this evening, Friday 25 August at approximately 20:35 hours (1935 GMT) by officers at the Mall outside Buckingham Palace in possession of a knife. During the course of detaining him, two male police officers suffered minor injuries to their arms."
The suspect was taken to a London hospital for treatment of minor injuries, the police statement added. There were no other reported injuries.
The police said the suspect will be questioned by detectives and that it is too early to speculate further.